Masterclass | Art As Lens: Viewpoints in Image-making
Explore your creativity and arts practice in a creative masterclass guided by artist Leigh Schoenheimer at the Bunya Mountains!
Leigh will guide you through a series of hands-on exercises to visually record and then artistically re-interpret an object of personal significance, enabling you to consider the differences between responding to your subject matter via the eye (perceptually), verses via the mind (conceptually).
The masterclass will expose you to new ways of thinking about your own arts practice and provide you with opportunities to observe, explore and construct new representations emerging from your individual approach to art making. All this in the company of other creative souls at the beautiful Bunya Mountains! 
You will need to bring along a small object of personal and/or cultural significance to use as a stimulus (something that will fit in your hand – or a little bit bigger) as well as your preferred drawing media and sketch/notebook. All other materials will be provided.
DATE: Sunday 22 May 2022 
VENUE: Clear View 
                Lot 11 Bunya Mountains Road 
                Bunya Mountains Local Village 
TIME: 10.00AM – 4.00PM 
COST: $50. Fully catered. 
Places limited. Register for the Masterclass here 
If you would like to make a weekend of it see accommodation options . 
Leigh Schoenheimer lives and works in Brisbane conducting a contemporary, multi-disciplinary art practice. She was the curator of the 2021 Western Downs Regional Artists' Exhibition. With her unique approach to 'expanded' still life paintings and idiosyncratic assemblages, Schoenheimer's work has been exhibited in many national art prizes for both painting and sculpture and is held in public and private art collections. She has had 11 solo exhibitions in both public and commercial galleries, with one of these – 'Iterate | Elaborate'- travelling extensively throughout QLD's regional galleries in 2021, courtesy of Flying Arts Alliance. An extensive case study of her work is featured in the current, senior, visual arts textbook, 'Creative Inquiry', published by Cambridge University Press in 2019. With an extensive background in art education, Schoenheimer's skills as a presenter and facilitator are also in strong demand.  
The Inaugural Annual Dance Affair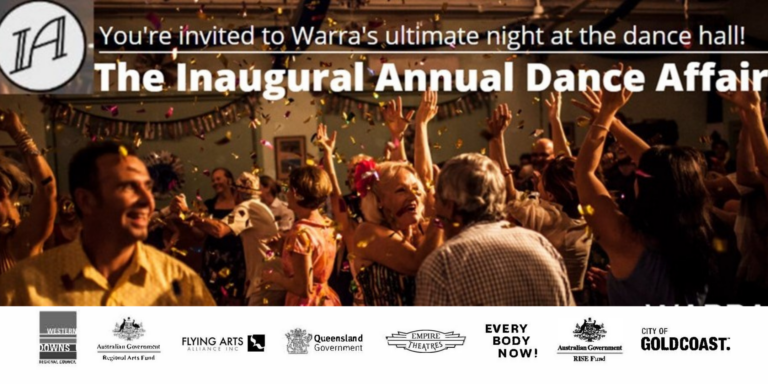 Part theatre performance, part 'get up and dance', The Inaugural Annual Dance Affair is a night at the dance hall like no other!
Date: Saturday 28th May, 2022
Time: Doors & Bar 6.30pm. Event starts 7.30pm
Duration approx 90 mins with interval
Venue: The Warra Memorial Hall, Warrego Highway, Warra
Tickets: Adults: $10 / 17yrs and under free
To register click here
Free buses will be available from Dalby, Chinchilla, Jandowae and Tara. Bookings required.
Additional Info:
Featuring Live Band
Drinks sold separately / No BYO
Supper is included in the ticket price and supplied by the Warra Hall Committee.
Created with and for the local community, The Inaugural Annual Dance Affair is a celebration of the Western Downs Region's dance culture and local history.
Come along and enjoy a cracking live band, charming emcee, light footed guest stars and heart-warming real stories from local legends.
By the end of the night your dance card will be full plus you'll be armed with the ultimate tool kit of essential dancing moves. There will be prizes, supper, a meat tray, and a Belle of the Ball award so get on your best threads and get ready to dance!
Propagate the Arts - Makers' Shopfront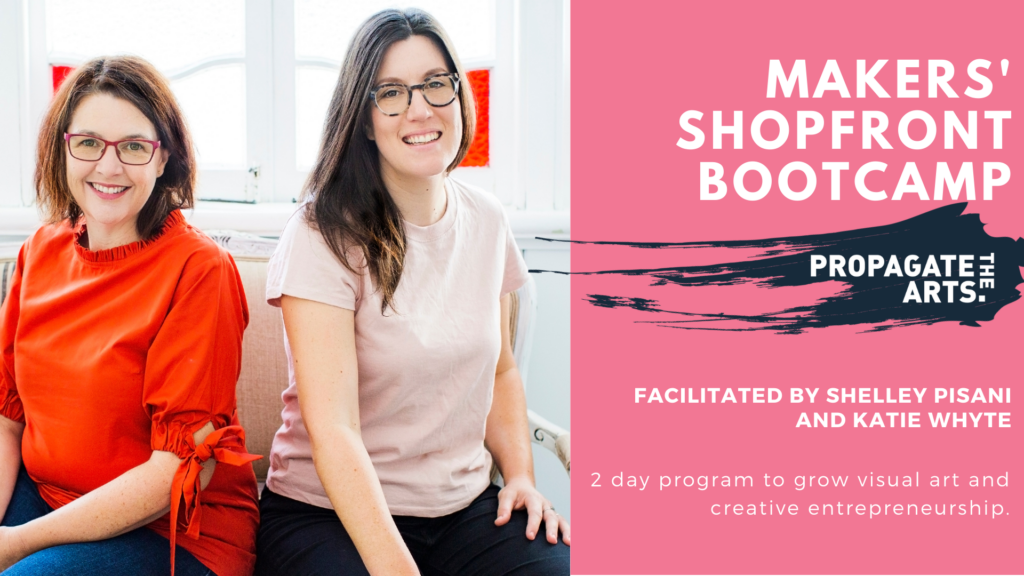 Makers' Shopfront Bootcamp
Facilitated by Shelley Pisani and Katie Whyte
2 day program to grow visual art and creative entrepreneurship.
Saturday 26 and Sunday 27 March
9am – 4pm both days

As practicing visual artists and arts workers, Shelley Pisani and Katie Whyte from Makers' Shopfront have had the hands on experience in growing their own businesses as well as assisting other artists and makers to build their careers and business models.
Makers' Shopfront grew out of the successful CQ Shopfront project delivered from 2019-2021 across seven local government regions in Central Queensland, working with 527 artists and makers.
—————————————————————————————————————————————————————————————————————————–
RADF funding available under the category of Technical and Professional Skills Development – outgoing individual
must be a resident of the Western Downs
tickets must be purchased prior to applying
applications must be in by end of February for the Quick Response round
Guidelines see page 9, point 3 
Funding towards 40% total project cost can be used towards:
• Workshop / Seminar / Conference /
  Masterclass / Mentorship Fees
• Travel
• Accommodation
—————————————————————————————————————————————————————————————————————————–
Day 1 Program – Product Development and Distribution

Flip your thinking about your practice to business terminology and explore the options for the "products and services" you have the capacity to offer. We will explore:
The entrepreneurial mindset
What is product development?
Ways of producing – freelance designing and licensing
Fabrication and collaboration
Ways of selling
Packaging and shipping

Day 2 Program – Marketing for Visual Artists and Creatives

Who are you making it for?
Telling your story
Branding
Social media fundamentals
Promotional tools
Customer relations
Cost for both days: $50
Cost for one day: $30
Get your tickets here
Proof of COVID-19 vaccination is REQUIRED.
Please be kind to our staff – help keep everyone safe.
Further info can be found here
Club Hotel, Chinchilla
131 Heeney St
Chinchilla Qld Australia 4413
List of accommodation in Chinchilla.

The Western Downs is rolling out the red carpet and welcoming the best of Australian short films as part of an exciting partnership between Western Downs Regional Council and Flickerfest Short Film Festival.
Flickerfest will visit four Western Downs towns in October, screening a selection of award-winning, entertaining, and inspiring films from the 31st International Short Film Festival as held by FlickerFest at Bondi Beach in January.
Council Spokesperson for Community and Cultural Development Councillor Kaye Maguire said the program would give locals a first look at the hottest short films in the world today.
"This is a fantastic event for our region as it brings our vibrant active communities together to enjoy a night of entertaining, inspiring and award-winning films," Cr Maguire said.
"Flickerfest will be stopping off in Bell, Chinchilla, Meandarra and Wandoan, where there will be a screening of the best shorts from Australia, hand-picked from over 2,700 entries.
"Come enjoy a night of film, food and drinks with family and friends as Flickerfest celebrates its 30th year as Australia's leading short film festival."
FlickerFest Director Bronwyn Kidd said she was looking forward to local audiences experiencing this amazing collection of award winning, creative, and uplifting short films from Australia's most talented emerging filmmakers.
"We are ecstatic to be sharing these films with the Western Downs again for another year," Ms Kidd said.
This is an exciting opportunity for Western Downs residents and certainly not one to miss.
The screening events will be held across our region at a cost of $10 a ticket.
These screenings will be COVID-safe events. Tickets must be pre-purchased through www.flickerfest.com.au/tour/
More Information
Town Date & Time Location
Wandoan Saturday 16th October 7pm Wandoan Cultural Centre
Chinchilla Friday 22nd October 7pm Chinchilla Cinema
Bell Saturday 23rd October 7pm Bell Memorial Hall
Meandarra Saturday 30th October 7pm Meandarra School of Arts
For more information contact Council on 1300 268 624 (COUNCIL) or visit www.flickerfest.com.au/tour/
The event will be live streamed so people can participate from the comfort of their own home. Click here for more information on the live streamed event and to register.
On Tuesday 9 February at Dogwood Crossing, Miles will host this newly funded touring program, focusing on the topic: Public Programming: How to get the community engaged with your space
Tuesday 9 February 2021, Dogwood Crossing, Miles
6pm Meet and Greet, Dogwood Crossing Foyer
6.30pm – 7.30pm Online Arts Dinner Talks, Murilla Room
For more information and to register click here.
Guest Speakers
Councillor Kylie Bourne
Chinchilla artist, Helen Dennis
Acknowledgements
The Scenic Rim Regional Council is partnering with the Regional Arts Service Network for South -West Queensland, to deliver the newly named Arts Dinners Live & ONLINE South West Queensland program. This project is supported by the Queensland Government through Arts Queensland.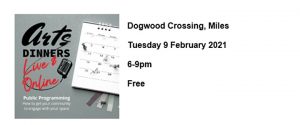 Creative Arts Practice Masterclass Weekend
27-28 March 2021
The Laurels of Chinchilla 
Seeking to enhance your arts practice?   
This masterclass is designed to guide you in the process of 'applied thinking' strategies for developing ideas and concepts that are the foundation of arts practice. The workshop includes creative investigations, self-reflection, readings, research, and informal group conversations. The outcomes for each artist will include developing starting points for creative explorations, ideas for new projects, time out to think, and to nurture a stronger connection between self and arts practice.   
The masterclass will suit artists who have some experience in exhibiting their work and would like to extend themselves further professionally. You will need to be self-motivated for personal success and open to new ways of thinking. Some additional exercises are required prior to the workshop to bring along so you can get the most out of your time during the workshop. 
Spaces are limited! Book early to avoid disappointment (Via Eventbrite) click here.
Email arts@wdrc.qld.gov.au for more information.
The Laurels of Chinchilla
Cost: $150 includes workshop fees and catering (you must be able to attend both days). 
Saturday 27 March 2021 9am – 4pm

 

Sunday 28 March 2021 8.30am – 2.30pm

 
Additional Cost: Accommodation 
Participants are encouraged to consider booking overnight accommodation at the Laurels of Chinchilla for a restorative experience and the opportunity to relax and engage with the masterclass tutor and other overnighting artists. 
About Sandra Pearce
Sandra Pearce is a Brisbane based artist working with paper and printmaking media. Her art practice responds to ideas relating to nature-human conflicts, the impacts of urbanisation and the human manipulation of landscape. Personal experiences are integral to her practice.  
Sandra has exhibited widely in both regional and private art galleries, completed several artist-in-residences, and has many years' experience in delivering public programs for galleries, local councils and community organisations.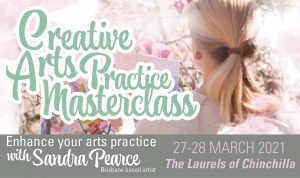 2020 WESTERN DOWNS REGIONAL ARTISTS' EXHIBITION