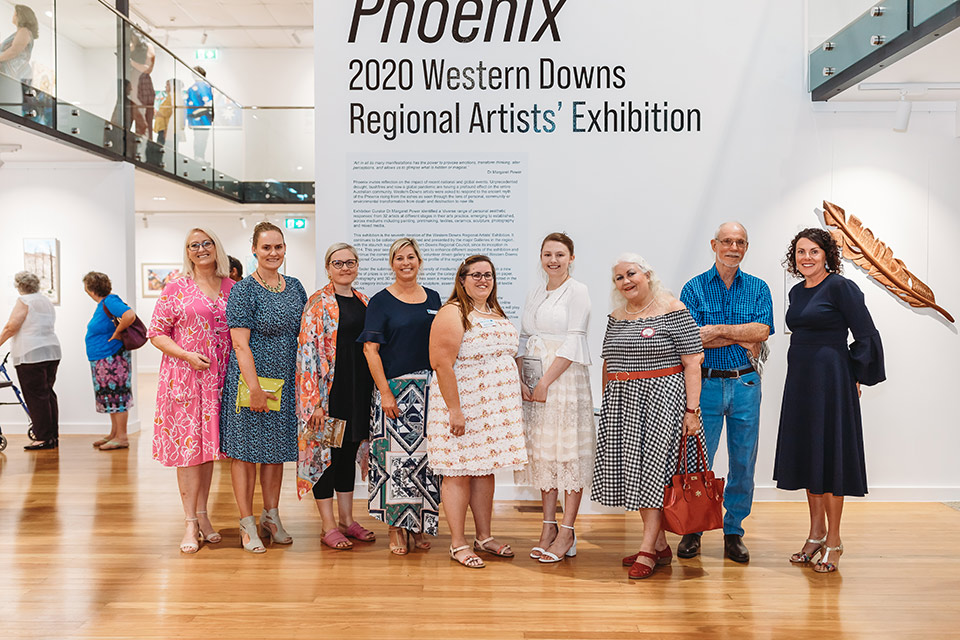 Credit line (L-R) Councillor Kaye Maguire, Regi Lehman, Kristen Flynn, Councillor Megan James, Andie Walker, Alicia Streten, Colleen Walker, Guy Breay, Natarsha Collins
The impact of recent unprecedented global events has had a profound effect on the entire Australian community.
When the planning committee for the Western Downs Regional Artists' Exhibition sat down in January to plan this year's exhibition, little did we know that the arts community and our community more broadly would be in for such a rocky ride.

Spirits were weary, and for many the devasting bush fires following on from prolonged drought were a focus that could not be ignored. Despite the unprecedented devastation we had witnessed unfolding, the group was encouraged by the many stories of people and communities reaching out to help one another in this difficult time. It was the experience of living through this time that inspired thoughts on how best to capture a theme offering hope after disaster.
In only a matter of weeks a new crisis presented, an unseen threat that would change our lives in ways we could not imagine. The trauma of living in 'uncertain times' revealed that as human beings, we like certainty, despite never truly being able to obtain it. The increasingly necessary isolation from normal activities that bring us into contact with others with other life changes, and the daily updates of new and concerning information have added additional layers of anxiety. Like the ancient myth of the Phoenix rising from the ashes, this theme arose as indicative of transformation, from death and destruction to new life.
In 2020, 32 artists from across the Western Downs submitted a total of 49 artworks: from emerging, to developing and established artists. Each sharing personal insights in their response to the theme Phoenix, together they celebrate the power of nature to strive for renewal, and shared belief of communities and individuals tap into an amazing reservoir of humanity to overcome adversity, giving rise to tremendous spirit, strength and support universally.
To encourage a wider range of media in the exhibition, the prize pool was amended to four categories: Painting, Works on Paper, Photography, and 3D artwork. The Young Artist Award encourages emerging young artist between the age of 14 and 21 years, and People's Choice Award is awarded as the result of public ballot. These accolades are made possible by our kind sponsors DOM Distribution, Kobbers Motor Inn Dalby, Lions Club of Dalby, REStech Solutions, Snap Printing and Design Services (Dalby), and Murray's Art and Framing (Toowoomba).
The Western Downs Regional Artists' exhibition continues to be an important platform for showcasing the artistic talent in our region. The first year presented online in the new Western Downs Regional Artist website, it is indicative of transformation and the acceptance of change; to welcome the new and embrace the new normal.
We acknowledge and congratulate all those involved in bringing this year's exhibition together.