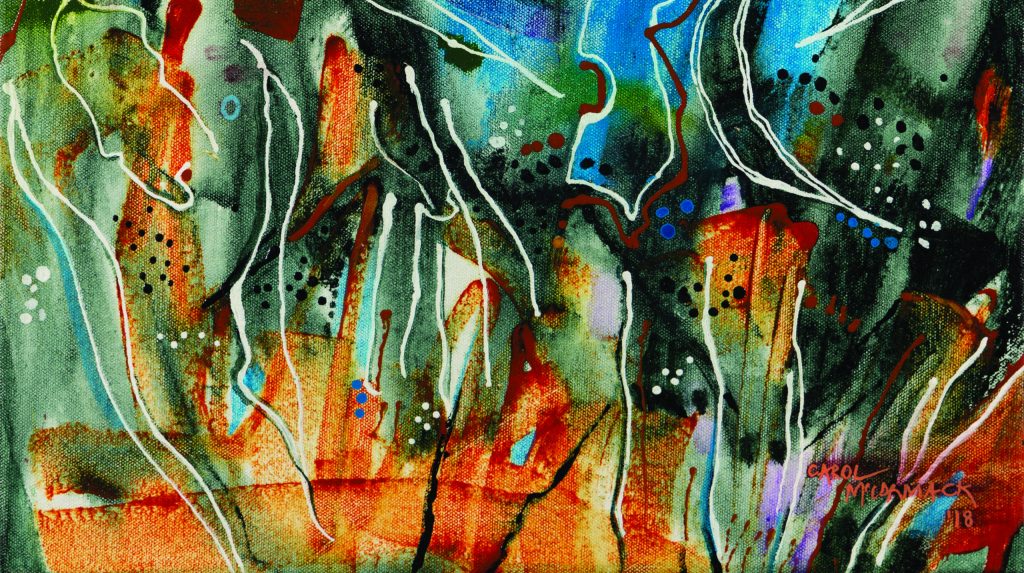 Curatorial Essay by Dr Margaret Power
The Western Downs Regional Artists' Exhibition for 2020 titled Phoenix showcases the depth and breadth of artistic talent present in the Western Downs region.
Traditionally, the exhibition has provided a platform from which regional artists can develop their professional standing and profile within the arts sector. In light of the impacts of the COVID-19 pandemic nationally, this important initiative has been enhanced by developing an online exhibition experience to greatly increase local regional access to the arts and reach a broader audience both nationally and internationally.
The 2020 exhibition theme challenged artists to conceptualise 'the ancient myth of the Phoenix rising from the ashes as seen through the lens of personal, community or environmental transformation from death and destruction to new life'. In 2020 the exhibition has attracted 32 talented artists, and 49 artworks from across the Western Downs.
The art works represented in this exhibition encapsulate a diverse range of personal aesthetic responses in mediums across four new categories, including: painting, works on paper, photography, and 3D work. In addition to these category prizes, a People's Choice Award and a Young Artists Award were also offered to attract participating artists at various stages along their career journey from emerging to well-established.
Art in all its many manifestations has the power to provoke emotions, transform thinking, alter perceptions, and allows us to glimpse what is hidden or magical. With that in mind, artists from this exhibition such as Guy Breay, Dion Cross, Trina Hartwig and Corrine Reynolds have sought to evoke within us, the viewer, powerful emotions associated with the cycles of life and death, the visceral feelings of personal loss and the tempest of inner change.
Equally, artists such as Kardia Stokes, Jo Kucks, Elizabeth Graetz, Anna Vogler and Rosanne Steele have endeavoured to transform our thinking. Stokes' work Deep History challenges our view about the telling of local history and its remembrance. Likewise, Graetz's Self Portrait, Vogler's Beyond the Yesterdays, Steele's Out of the Ashes a New Era Dawns and Kucks' Life on the Street, attempt to alter our thoughts about human steadfastness, resilience, and hope in a time of fear and darkness.
Exhibiting artists Patricia Hinz, Cindy Grimes, Helen Dennis, Kay Joyce, Shirley Makin, Mary Penfold, Karen Gaskell, Mary Tiemey and Jodie Adams have strived to alter our perceptions of the Australian landscape, and its uniquely beautiful flora and fauna.
The powerful theme of ecological regeneration resonated throughout this diverse collection of works, with each of these nine artists drawing our attention to the interconnectedness of Australian ecology through cycles of fire, drought, and flood. Reminding us of natures dogged determination for survival. Notably, the work of Grimes, Hinz and Dennis focused our gaze on the intricate details of the natural world and the vibrancy of the landscape reborn after long awaited rain.
Finally, exhibiting artists Carol McCormack, Kristen Flynn, Kerrie Fountain, Sharleen Smith, Alicia Streten and Jean Cuskelly aid us in catching a glimpse of a hidden, magical world. An example of this magic can be found in Carol McCormack's painting Regeneration which provides us with a dynamic vision of the mystical rebirth of nature and the magical essence of life that drifts and swirls in giant spiritual eddies around trees that stretch up to the heavens. Like McCormack's painting Regeneration, Sharleen Smith's Animal Dreaming, carries us on a journey to the place of spiritual animals and ancestors. While Kisten Flynn's hauntingly beautiful print The Gardener, allows the viewer to catch a glimpse of a mythological deity from a world just beyond our reality. Equally, Kerrie Fountain's The Rising Phoenix, Alicia Streten's Eos, Kristen Flynn's Daisy Flesh and Jean Cuskelly's Nutmeg, transport us to lands with mythical creatures, Greek Titans and childlike wonder and whimsy.
Collectively, the 2020 Regional Artists' Exhibition Phoenix demonstrates Western Downs' artists' ability to transform and captivate. Judging of the exhibition has provided me with the opportunity to view art works addressing a wide range of subject matter and award four highly skilled artists across five separate prize categories, including the Young Artists Award. This year, six artists have very deservedly received Highly Commended Awards for their exhibition entries. Each of the awarded and commended artists participating in this year's exhibition have produced works of very high quality and have made judging the 2020 Regional Artists' Exhibition a thought provoking and rewarding experience.